I really enjoyed watching the Where Good Ideas Come From, TED Talk by Steven Johnson because he took a simple question and investigates how ideas are formed. Johnson talks about how ideas are not single in nature or magically appear, but are almost symptomatic of discussing and sharing within networks.
Personal Sharing
I have not understood my experience of having ideas to be a result of a network until now. I can see how my ideas have often come to fruition as a result of a collection of both sharing and storytelling. I have been able to learn from others, think through, and enrich ideas or create new ones based on new information obtained from various types of networks. This has predominantly happened in physical spaces like the SCIC office discussing programming with my colleagues or, no joke, in coffee shops like Johnson describes, with friends who share about their work and personal lives. I do think there is something essential to these interactions or networks and that is that they are based on sometimes quite personal interactions with people, and not just information or content.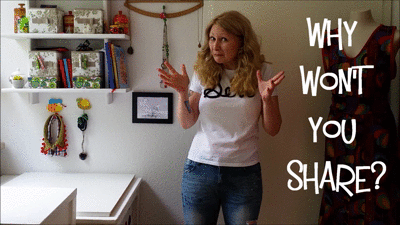 To be honest, until this class I hadn't even considered sharing more of myself or ideas through YouTube or in other ways. I have felt that sharing and engaging with social media takes up enough of my computer/tech time and I would rather spend my time with people I care about. Also, I have felt like there is so much being shared in online spaces and social media that it seems over-saturated. I am not sure whether any contribution I make would be valuable or if I would be comfortable being so open, vulnerable, and exposed. It begs the question(s),
What could I possibly have to say that is unique or different than what is out there already?
Why bother putting myself out there in this way if only to share my experiences or ideas with a select few people?
What are the costs to me personally for sharing about my self/experience/ideas?
Is this the best use of my time?
I also have concerns about how ideas are credited and the lack of ownership of ideas. Strangers are able to access your ideas without even talking to you! Identifying these questions and concerns has helped me to see that the negative aspects of online sharing that I described have mostly to do with my own fears of engaging in this way. From reading Joe McGurran's blog post I can see that these concerns are real for him too. Though they are legitimate fears, they may not be negative results of online sharing.
Throughout this course I have seen some of the 'good' that can come out of sharing online and contributing to a network and, as a result, I am more interested in sharing online.  My new interest in sharing in online networks is, in part, a result of participating as a consumer in the sharing economy. I do feel a small amount of obligation to contribute to and participate in the networks that I access and consume. Often, I am overwhelmed by all that is available on the internet, on OER platforms, and even on just YouTube. There aren't enough hours to sift through all of this content or to make meaning from so many options.
Professional Sharing
In Sharing: The Moral Imperative, Dean Shareski discusses the obligations of institutions and their teachers to teach the students in the building as well as students beyond the classroom. Since education is premised on conceptions of sharing, Shareski believes there is an ethical responsibility of educators to share beyond their classrooms and that sharing is no longer an option.
In consideration of my work context I do have experience creating and sharing educational resources in online spaces and networks. I have found that the resources that are most context-specific, meeting Saskatchewan curriculum outcomes and indicators, and focus on challenging topics are valued and appreciated by teachers and community based organizations. For example, in 2015 SCIC launched the Transforming Charity into Solidarity and Justice resource which addresses gaps in understanding the concepts of charity, justice, and solidarity. This resource is available for free and downloadable on the SCIC website. It has also been shared with the Ministry of Education and it appears on the curriculum website under resources.
I do like Shareski's challenge to consider it no longer an option not to share. This makes me wonder how I can create resources and work with SCIC's communications team to share our educational resources more effectively and efficiently. Sharing through online networks creates opportunities for greater impact; stronger connection; and idea creation, formation, and inspiration. SCIC has a stake in Saskatchewan specific sharing culture around educational resources and if such a platform existed SCIC would share and collaborate with others in this space. Now that I am more aware of OER's I think we will be able to add our resources where appropriate, however if you have any suggestions on how to share more effectively please let me know!
I just wanted to end with a quote from Shareskies video, he says, "[u]niversities come to know about things through studies; organizations come to know about things through reports; and people come to know about things through stories."
I like this idea of focusing more on stories and will challenge myself to get better at storytelling!
Thanks for reading!