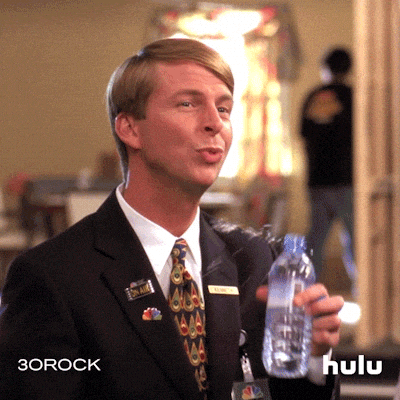 Pregnancy Update: I have been feeling anxious for my first (12 week) ultrasound. There is a significant amount of pressure for pregnant women to have healthy pregnancies and babies.
This pressure comes is both self-inflicted and from society where women are given many do's and don'ts during pregnancy.
My fears involve whether I am lifting or exercising too much, resting enough, or eating/drinking the wrong thing or getting enough of the right things. These fears can be paralyzing for the result could be low birth weight, birth defects, malnourishment, and miscarriage.
Over the last month, at least, I have been fairly inactive in part because I am exhausted, but also          via Giphy   
because I am afraid that if I do too much I could harm the fetus. It is clear that I have some knowledge to gain about proper nutrition and exercise during pregnancy. If you have been pregnant or have been the cook for someone who is pregnant, what tools did you use to ensure a nutritious diet and exercise plan? If you have any thoughts or resources on how to exercise and eat well while pregnant please share and stay tuned to future blogs where I will explore these ideas!   

So, I am excited for the next trimester and am anxious for the results of the first ultrasound and hope to learn whether the fetus is healthy. In order to prepare for the ultrasound I evaluated my level of knowledge about ultrasounds by taking a quiz. Find out what you know about ultrasounds by taking the quiz at BabyCenter.ca
Development: between week 11 and 13 the fetus' body is straightening out; hair follicles, finger and toe nail beds form; they no longer have webbed hands; ovaries are developing if it is a girl; the intestines develop inside the umbilical cord; and there is vocal cord development. (Source: What to Expect When You Are Expecting, 5th Edn.)
Symptoms: fatigue, headaches, constipation, bloating, and some nausea, but less than the previous weeks.
On October 6th I went for the first ultrasound and learned that based on the size and length of the fetus, it is 12 weeks and 2 days along in its development. It's heart beats 161 times per minute and it is 5.6 cm long.
During the ultrasound we did a nuchal translucency screening in order to determine whether the fetus has any early signs of Down Syndrome or other health concerns.
I feel very lucky to be able to report that there were no concerns with the screening and so far the fetus is healthy! In order to celebrate I thought I would share a pretty funny video that my classmate, and supermom, Coralee Czinkota mentionted to me in a blog comment. Enjoy!